Después de brillar en su primera temporada en la NBA con Dallas Mavericks, Luka Doncic disfruta de unas más que merecidas vacaciones. Y uno de sus destinos elegidos fue Madrid, su segunda casa, la ciudad en donde creció y se hizo estrella antes del salto a Estados Unidos. El esloveno no se quiso perder el comienzo de los playoffs de la Euroliga, y este viernes fue testigo en primera fila del show de un argentino: Facundo Campazzo.
An award and tribute video for @luka7doncic on his return to @RMBaloncesto 👏#GameON pic.twitter.com/InHlL005Vq

- EuroLeague (@EuroLeague) 17 de abril de 2019
El base de la Selección Argentina se adueñó de Real Madrid ante la lesión de Sergio Llull (sus derechos NBA son de Houston Rockets) y comandó una nueva victoria, 78-63 ante Panathinaikos, que puso al campeón con una ventaja de 2-0 en estos cuartos de final. Así, quedaron a un nuevo triunfo del Final Four.
.@RMBaloncesto basketball at its finest 😱

Jeffery Taylor ❌ @facucampazzo 👀 @waltertavares22 🚀#7DAYSMagicMoment pic.twitter.com/az5D2N991X

- EuroLeague (@EuroLeague) 19 de abril de 2019
Facu coqueteó con el triple-doble y terminó el encuentro con 13 puntos (2-3 dobles, 3-5 triples), 7 rebotes, 9 asistencias y 5 robos en 23 minutos de acción. Además, le ganó con autoridad el duelo al ex NBA Nick Calathes (1 punto, 0-9 campo), uno de los mejores bases de la competencia. "Todo esto no significa nada si no ganamos un partido más. Tenemos que seguir trabajando", analizó el cordobés.
El conjunto español también tuvo presencia argentina con Gabriel Deck, quien sumó 2 tantos, 3 recobres, 3 asistencias y un recobre en 15 minutos.
The 'player of the game' AND a first interview in English.

Quite a night for @facucampazzo #GameON pic.twitter.com/p58ioNDXMF

- EuroLeague (@EuroLeague) 19 de abril de 2019
La serie continuará el martes el Grecia, donde el Madrid buscará la barrida y el pasaje a una nueva definición.
Is @facucampazzo one of the most entertaining players in the league?#GameON pic.twitter.com/d8BVWsTiqE

- EuroLeague (@EuroLeague) 19 de abril de 2019
Baskonia y su golpe con Garino y Vildoza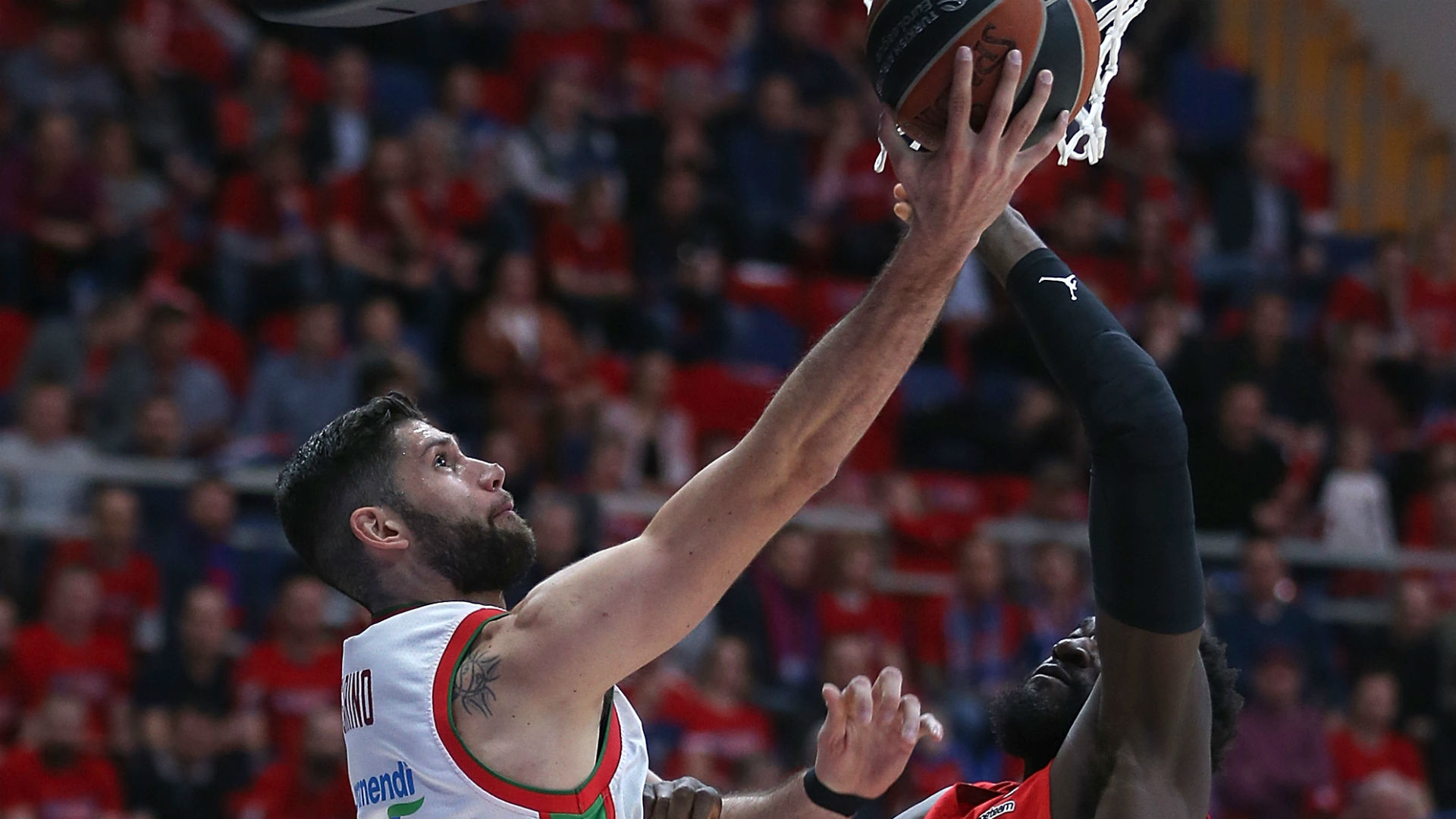 El jueves, Baskonia dio la gran nota de estos segundos partidos de cuartos de final venciendo en Rusia al poderoso CSKA Moscú. Fue por 78-68, con una enorme demostración colectiva que le permitió igualar la serie (1-1) y regresar a Vitoria con la chance de cerrar la eliminatoria ganando los dos próximos duelos.
Para el impacto hubo gran aporte argentino. Patricio Garino (ex Orlando Magic) sumó 11 puntos (4-5 dobles, 1-3 triples) y 2 tableros en 21 minutos; mientras que Luca Vildoza (base de la Selección) aportó 7 tantos, 4 asistencias y un robo en 24 minutos.
.@Baskonia overpowers CSKA Moscow 68-78 on Thursday night at Megasport Arena to even their best-of-five playoff series at 1-1

Highlights... pic.twitter.com/QZf1XB2ssD

- EuroLeague (@EuroLeague) 18 de abril de 2019