Zion Williamson chocó rodilla con rodilla en el tercer periodo del partido entre New Orleans Pelicans y New York Knicks de la NBA Summer League, y tuvo que salir de la cancha por prevención.
Después del choque salió a los pasillos, fue checado por los médicos de los Peas y se determinó que ya no iba a regresar más. Posteriormente regresó a la banca y se le puso hielo en la rodilla izquierda.
Zion Williamson (left knee) took knee-to-knee hit. Will not return

- New Orleans Pelicans (@PelicansNBA) 6 de julio de 2019
El ex de Duke arrancó como titular y causó mucha expectativa ante más de 19 mil personas que se dieron cita en Las Vegas. Entre los asistentes en primera fila estuvieron LeBron James, Anthony Davis, Lonzo Ball, Josh Hart, Jrue Holiday, Julius Randle, entre otros.
Lots of players in Vegas watching Knicks-Pelicans 👀

Josh Hart, Lonzo Ball, PJ Tucker, DeMar DeRozan, LeBron, Ja Morant, Trae Young ... pic.twitter.com/vLK94tnuaJ

- NBA on ESPN (@ESPNNBA) 6 de julio de 2019
Desde que el oficial lanzó el balón al aire, cada jugada de Zion arrancó un suspiro del público. Su primera jugada fue un pick&roll que querían que terminara en alley-oop, pero Kevin Knox lo evitó. Aun así, Williamson fue a la línea y metió uno de dos. Después vinieron dos tiros fallidos con la marca de Knox que la estrella de los Pels falló.
Pero después vino el show con dos volcadas. La primera en un pase que intentó interceptar Kevin, luego vino una en la que Zion le robó el balón a Knox con gran fuerza y después otra en un pick&roll.
ZION WILLIAMSON! pic.twitter.com/8GH9FhW38m

- ESPN (@espn) 6 de julio de 2019
ZION DUNKFEST 🔥 #NBASummer pic.twitter.com/vD1F5XqZDz

- NBA on ESPN (@ESPNNBA) 6 de julio de 2019
En el tiempo que estuvo el pick 1 del Draft 2019 metió 11 puntos, 3 rebotes y bloqueó el balón en una ocasión. Se fue 4 de 9 en tiros de campo y 0 de 2 en triples.
Por su parte, RJ Barrett metió 10 tantos, bajó 5 tablas y dio una asistencia. Por los Knicks, el máximo anotador fue Knox con 17 unidades y 8 rebotes.
Temblor que suspendió el partido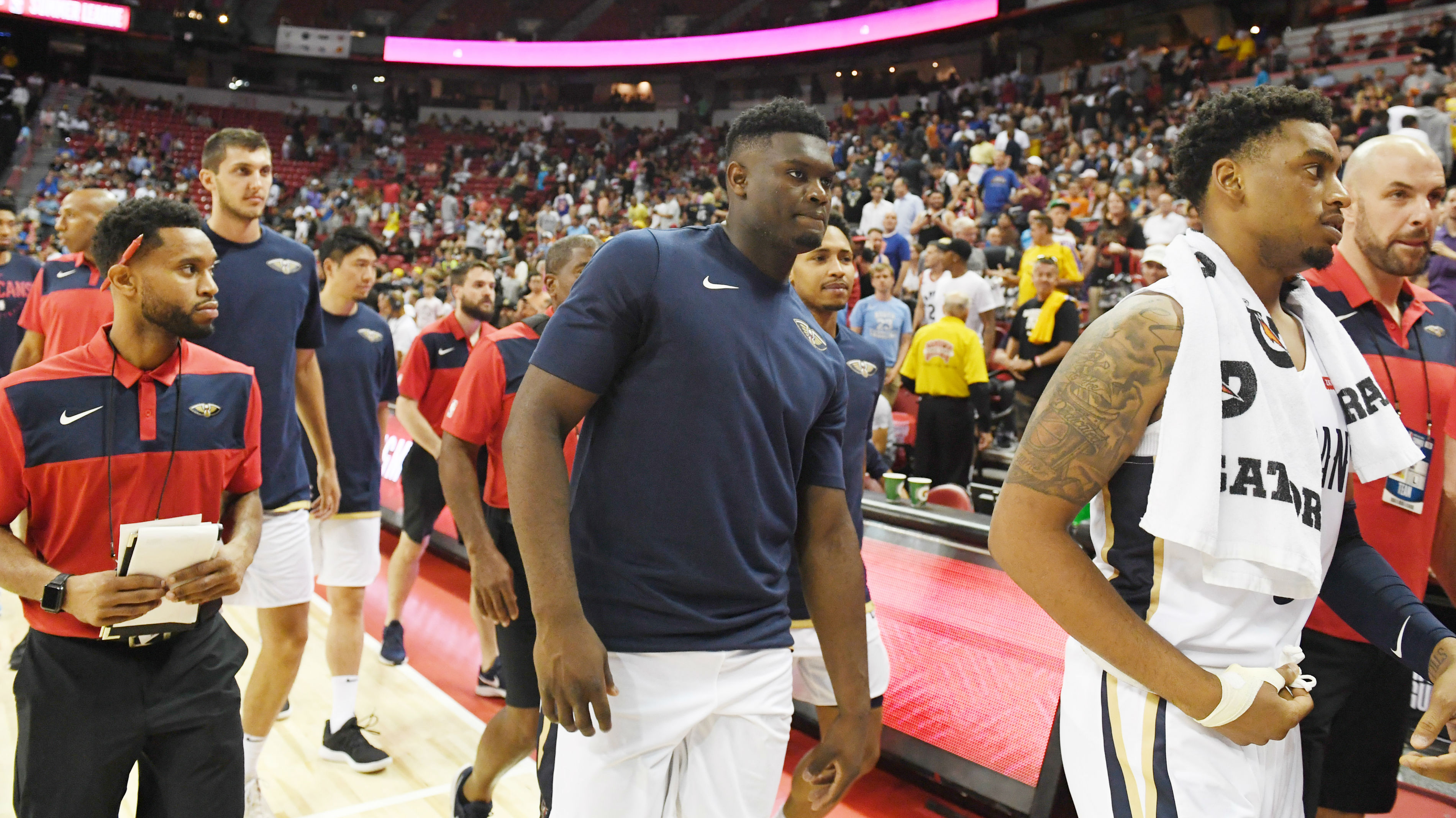 Durante el cuarto periodo, un temblor de 7.1 grados sacudió California y se sintió en Las Vegas. El balón se estaba botando, cuando se comenzó a sacudir todo el recinto.
What it looked like the moment an earthquake hit during the game.

Knicks-Pelicans is still suspended. pic.twitter.com/v1LzdRKtea

- ESPN (@espn) 6 de julio de 2019
Just experienced my first earthquake while being on the 21st floor of a hotel. Talk about scary

- Evan Turner (@thekidet) 6 de julio de 2019
Ive never got dressed so fast in my life

- Rudy Gobert (@rudygobert27) 6 de julio de 2019
For precautionary reasons, the remainder of tonight's @NBASummerLeague action at Thomas & Mack Center has been postponed.

- NBA (@NBA) July 6, 2019
Hasta ese momento iban ganando los Pelicans por 80 a 74. El juego fue pospuesto.