La NBA dio a conocer a los 10 basquetbolistas titulares que jugarán en el All-Star 2019 en el Spectrum Center, en Charlotte, Carolina del Norte, el próximo 17 de febrero.
El próximo jueves 31 de enero se revelarán las reservas y el 7 de febrero se llevará a cabo el Draft del Juego de Estrellas, en el que los capitanes podrán elegir a su equipo sin importar de qué conferencia sean. Ese Draft será televisado por TNT el 7 de febrero.
January 24, 2019: #NBAAllStar⁠ ⁠ starters and captains revealed @NBAonTNT

January 31, 2019: #NBAAllStar⁠ ⁠ reserves revealed @NBAonTNT

February 7, 2019: #NBAAllStar Draft televised @NBAonTNT

February 17, 2019: 68th #NBAAllStar⁠ ⁠ Game 8pm/et @NBAonTNT

- 2019 NBA All-Star (@NBAAllStar) 22 de enero de 2019
El voto de los fanáticos representó el 50 por ciento de los votos de los 10 titulares, mientras que el voto de los jugadores de la NBA y de los periodistas representaron el 25 por ciento cada uno.
👀📺 NBA All-Star Draft Show, Feb. 7, 7:00pm/et, @NBAonTNT!

Team captains will be announced this Thursday (Jan. 24) at 7:00pm/et on @NBAonTNT. pic.twitter.com/qq0vElUMkb

- 2019 NBA All-Star (@NBAAllStar) 22 de enero de 2019
¿Quiénes son los titulares?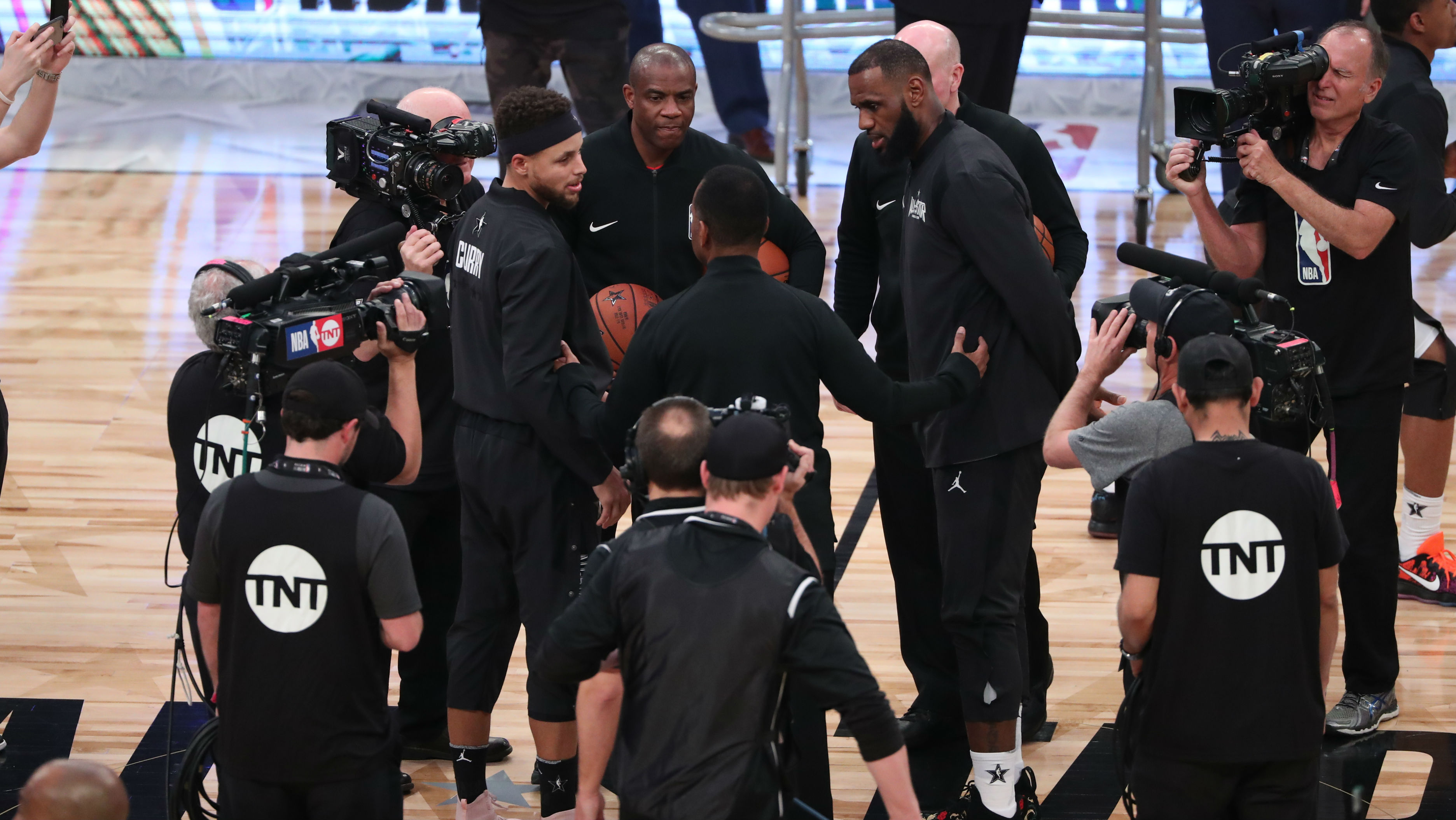 The reigning MVP is rolling into Charlotte! 🔥

James Harden is an #NBAAllStar starter! pic.twitter.com/OhmKerPH8n

- NBA TV (@NBATV) 25 de enero de 2019
Chef Curry is set to cook up something special in Charlotte! 👨🏼‍🍳

Stephen Curry will be a 2019 #NBAAllStar starter! pic.twitter.com/j1TLbcvcsX

- NBA TV (@NBATV) 25 de enero de 2019
The King's reign continues. 👑

LeBron James will be an #NBAAllStar captain for the second straight year! pic.twitter.com/Xint8fIvJM

- NBA TV (@NBATV) 25 de enero de 2019
PG-13 has punched his ticket to Charlotte! ⚡️

Paul George is an #NBAAllStar starter! pic.twitter.com/9zSFYimnvA

- NBA TV (@NBATV) 25 de enero de 2019
All-Star bound for the 10th straight season. 💪

Kevin Durant is 2019 #NBAAllStar starter! pic.twitter.com/Z2IOBVc5OK

- NBA TV (@NBATV) 25 de enero de 2019
Uncle Drew is making an appearance in Charlotte! ☘️

Kyrie Irving is a 2019 #NBAAllStar starter! pic.twitter.com/TeuRTX2zjn

- NBA TV (@NBATV) 25 de enero de 2019
Putting on for his city. 🐝

Kemba Walker will be a 2019 #NBAAllStar starter in Charlotte! pic.twitter.com/hmU0oYfXaF

- NBA TV (@NBATV) 25 de enero de 2019
Toronto's two-way terror is taking his talents South. 🖐

Kawhi Leonard will be a 2019 #NBAAllStar starter! pic.twitter.com/9pdljv8mFV

- NBA TV (@NBATV) 25 de enero de 2019
The Greek Freak's stellar season continues. 🇬🇷🦌

Giannis Antetokounmo is an #NBAAllStar captain! pic.twitter.com/0SZv03h9es

- NBA TV (@NBATV) 25 de enero de 2019
He told you to trust the process ... 🔔👀

Joel Embiid is an #NBAAllStar starter! pic.twitter.com/eeYVOkP4jq

- NBA TV (@NBATV) 25 de enero de 2019