Lo hicieron. Noche sufrida para Golden State Warriors, quienes se quedaron con la victoria en el quinto juego de las Semifinales de Conferencia del Oeste contra Houston Rockets por 104-99 y están a una victoria de clasificar a las Finales.
Los actuales campeones tuvieron que echar mano de los Splash Brothers por una lesión que dejó a Kevin Durant fuera del duelo y, a pesar de que no han tenido buenas actuaciones en los Playoffs, respondieron cuando se les necesitó. También Draymond Green se perdió los últimos minutos por cometer seis faltas.
The @warriors hit big shots down the stretch en route to the Game 5 home victory! #StrengthInNumbers #NBAPlayoffs

Game 6: Friday (5/10), 9:00pm/et, ESPN pic.twitter.com/qspNDILXaw

- NBA (@NBA) May 9, 2019
Klay con su mejor partido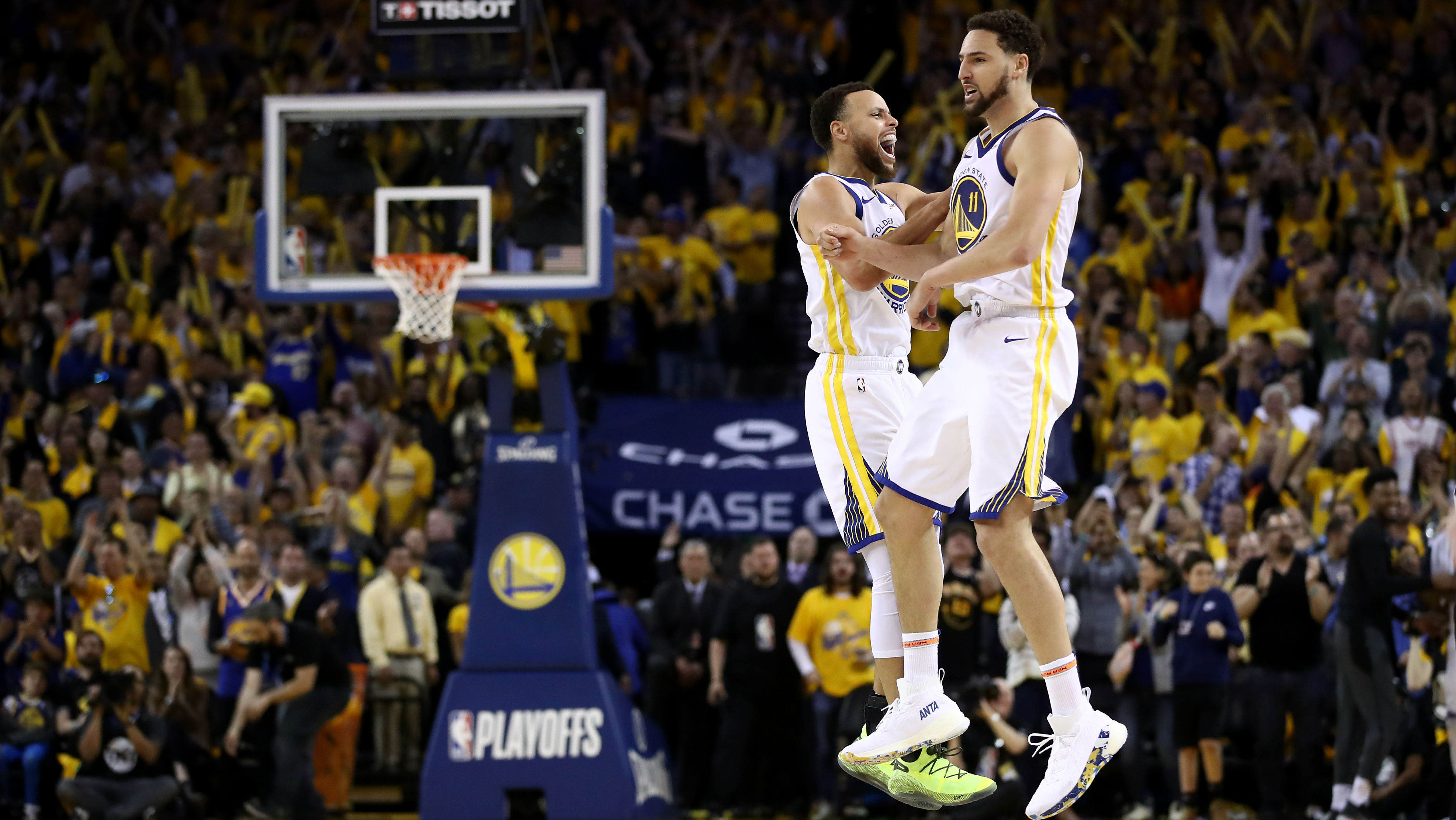 La serie contra los Rockets ha sido mala para Klay Thompson, hasta esta noche. 38,7% en tiros de campo y 15,3 puntos por juego. Pero todo cambió en el quinto encuentro.
Rápidamente, el escolta empezó a acertar tiros de larga distancia y eso le ayudó a tener confianza en los últimos momentos.
La posesión que le dio la victoria de los Warriors fue una anotación de Thompson, quien con la marca de Clint Capela y James Harden metió la canasta que los puso a dos posesiones de distancia.
Klay Thompson finalizó la jornada con 27 puntos al promediar 55% en tiros de campo y 50% en triples.
La redención de Curry post Durant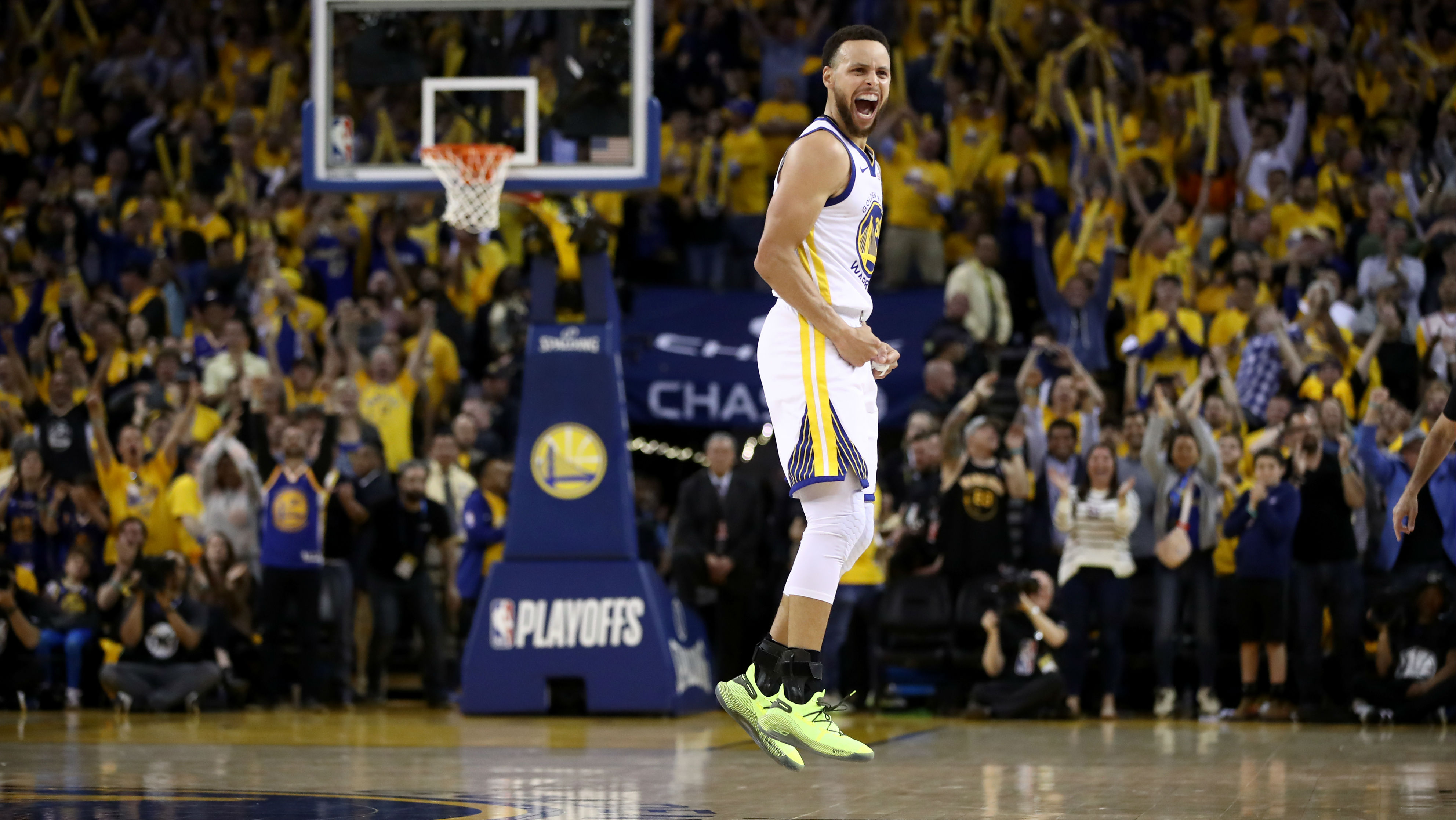 La lesión de Kevin Durant en el tercer cuarto encendieron las alarmas. Las redes sociales temieron por una ruptura en el tendón de aquiles, pero minutos después los Warriors anunciaron que era una distensión en la pantorrilla derecha.
Hasta ese momento, el alero tenía 22 puntos, mientras que Stephen Curry solo llevaba 11. Y a pesar de la mal serie que ha tenido y a veces no aparece en cancha, vino un giro de 180 grados y volvió a ser ese jugador que conocíamos.
Se cargó al equipo, no fue a descansar más y encestó 14 tantos más, de los cuales fueron tres triples (intentó 4 en ese transcurso de tiempo).
Al final, se mostró completo por la victoria, pero no por la forma. "Es frustrante, pero hay que seguir tirando. Tiré muy bien durante mucho tiempo y a veces tienes que pasar por algunos baches. Mantenerte confiado", dijo al final del duelo.
The @warriors prevail in Game 5 to take a 3-2 series lead!

Game 6: Friday (5/10), 9:00pm/et, ESPN#StrengthInNumbers #NBAPlayoffs pic.twitter.com/682J17yAFH

- NBA (@NBA) May 9, 2019
El siguiente juego será el viernes 10 de mayo.
¡Mira los Playoffs en NBA League Pass con 30% de descuento! Usa el código SAVE30. Da click para México y Argentina.